Contests and Promotions
Get involved in SYNERGY MOON promotional outreach campaigns, contests and promotions. Play your part by participating in campaigns and we'll continue to offer more fun and creative ways to join our missions. The first campaigns are below and we welcome your feedback and suggestions for future activities.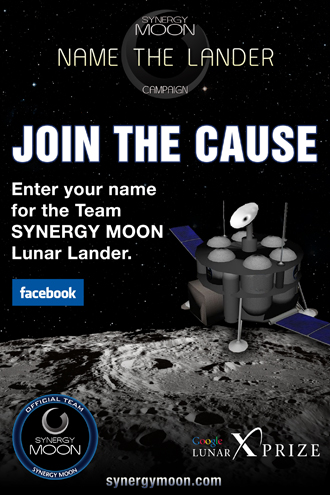 Submit your Name for the Team SYNERGY MOON Lunar Lander
SYNERGY MOON is going to the moon as part of the Google Lunar X PRIZE, to pave the way for humanity's expansion to our nearest celestial neighbor. Via donations through Trans Lunar Research, our Non-profit 501(c)(3) fiscal sponsor, we're involving everyone with the chance at assisting us in fundraising for our lunar lander while giving them the chance to name it. Our lander will deliver our Tesla Rover and Surveyors, then become our first automated lunar base, performing research and contributing to the Lunar Art Capsule art projects!
Sponsors that provide the funding usually get to name the vehicle, and we wanted that to be you as a member of our Facebook Cause donation efforts! Post your idea for a name for the lander, along with a donation to the cause. After names are submitted, we will have a series of votes to narrow down the choices and finally pick a name! With enough funds raised through this cause, your name could become the official name of the Team SYNERGY MOON Lunar Lander. So donate and post your suggestion for a name, forward this on to your friends so they can also join the cause. The more entries your group brings, the better the chances for them to name the SYNERGY MOON Lander.
Facebook Cause

Get involved by visiting
the Facebok Name the Lander Cause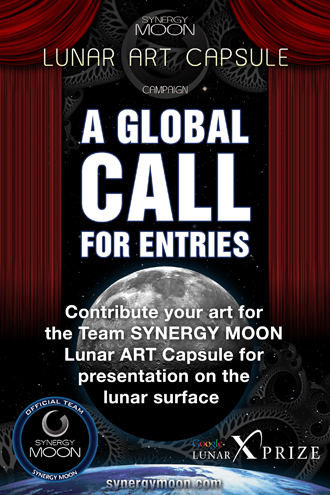 Put Your Art on the Moon with the Team SYNERGY MOON ART Capsule
Thats right, we are bringing artistic expressions from the whole human family to the moon, and no one needs to be excluded. As a part of our mission to the moon our Tesla Rover will deploy the Art Capsule which will showcase and include art collected from around the world in a series of creative ways still to be announced.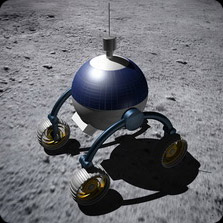 Visit this page again for updates on the Art Capsule technologies we will utilize to bring the contributed art to the lunar surface. Visit the social networking websites we've setup for you below and submit your creations for the Art Capsule.
YouTube

Visit the Team SYNERGY MOON
Art Capsule YouTube Channel
All you need to do to submit your video art for inclusion in the Team SYNERGY MOON Art Capsule is to respond to our explanatory Call For Entries Video with a video response showcasing your contribution.